Bourbon Reviews: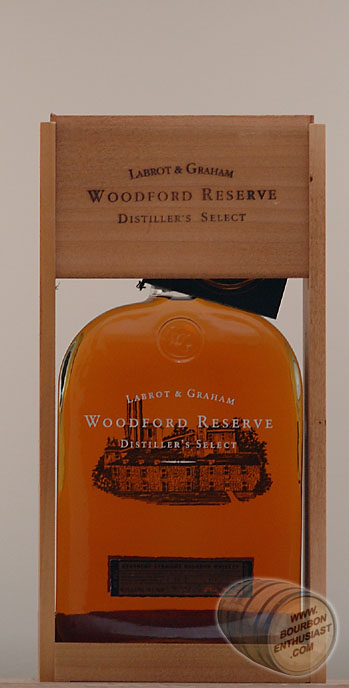 | | |
| --- | --- |
| Bottling Name | Woodford Reserve VIP |
| Bottled By | Labrot & Graham Distillery Versailles,KY |
| Type | Kentucky Straight Bourbon Whiskey |
| Alcohol content | 90.4 Proof |
| Availability | US: Available Japan: Unknown Duty Free: Unknown Europe: Unknown |
| Views (since 20080612) | 10211 |
| Bottling Info | |
Review from gillmang (BourbonEnthusiast Review ID 682, Created:20070107144536, Updated:20070107145004)
Purchased at:

Toronto

Purchased for:

$23.95 (CAN)

Info on this bottle:

375 ml. bottle (I believe selected for LCBO)

Nose:

Pungent nose combining wood, alcohol, perfume, copper

Taste:

Very full and wood (fresh wood) seems to surge to the front. A little gritty and earthy (fresh loam).

Finish:

Not a long finish but the coppery notes seem to predominate

Overall:
A good whiskey in that there is no funk, no old wood, no faults. But not that integrated, not stylish.

It would make a great Manhattan or Sour but seems too "big" to enjoy neat, For that, I prefer OF 100.
Registered users can make comments on this review...Already registered? Log in here
---
Review from Mike (BourbonEnthusiast Review ID 239, Created:20050811120606, Updated:20050811120832)
| | |
| --- | --- |
| Purchased at: | Sigman Bottle Shop Conyers, GA |
| Purchased for: | Don't recall |
| Proof Of this Bottle: | 90.4 |
| Nose: | A very nice nose that promises flavors aplenty. The scents I uncover are vanilla, oak, corn, leather, brown sugar, apple, and a skosh of nutmeg. |
| Taste: | A smooth but not cloying corn sweetness greets the upfront tongue and palate. WR is very viscous and has some pepper to it as it proceeds across the mouth. It warms the back of the mouth as only a bourbon does. Not great complexity or large dimension, nor great subtleness, but not to be dismissed out of hand. |
| Finish: | The viscosity ensures that the flavors linger, with the spicy/pepper most prominent on exit. |
| Overall: | The WR Distiller's Select is a very good quality bourbon that is better, in my judgement, than the other WR products. I know a couple of WR fanatics. I like and admire them, but not for their bourbon accumen. I really want to give WR the benefit of every doubt, and I take nothing away from it, it is enjoyable and better than I remembered. But... there are, in this reviewer's opinion, better bourbons out there for the same or less money. |
Registered users can make comments on this review...Already registered? Log in here
---


Log in to be able to add your own review of this bottling.

&nbsp