Bourbon Reviews: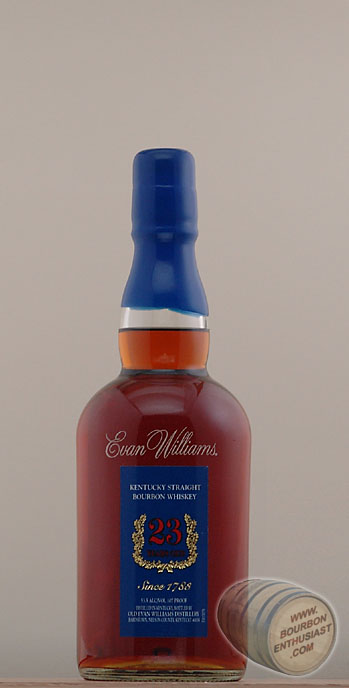 Bottling Name

Evan Williams 23

Bottled By
Heaven Hill Distilleries, Inc. Bardstown,KY
Type

Kentucky Straight Bourbon Whiskey

Alcohol content

107 Proof

Availability

US: Not Available Japan: Available Duty Free: Unknown Europe: Available

Age

23

Views (since 20080612)

9053

Bottling Info
Michael Jackson

Nose
A box of dark chocolates, the lid newly opened.
Palate
Dark chocolate. Rum. Oak.
Finish
Long, warming. Some woody astringency.
Comment
A lovely bourbon, but I prefer it younger.

------------------------------------------------------------------------------------------

Dave Broom

Nose
Dark and chewy. Chocolate cherries. Turkish coffee, sweet spices, maple syrup, pine.
Palate
Sweet and fragrant. weight of wood and sweet spirit. Sweet and balanced. A big whiskey.
Finish
Long, syrupy.
Comment
In a battle between grippy oak and the powerful sweet spirit the latter wins ??? just. One ice cube is enough. Great for its age.
Review from Dump Bucket (BourbonEnthusiast Review ID 1521, Created:20090314133939) View discussion on this review.

Purchased at:

Japan (Thank you AD)

Purchased for:

~$200ish

Nose:

You can tell there is some age here, but there is still vanilla and some sweet fruits. Oak is there, but not overwhelming and I think some warn in leather. Nice nose. Inviting

Taste:

Sweet and then vanilla, oak *but not to much) , some good depth and some softer tannins from the oak??? little burn, but not much for 107 proof

Finish:

Vanilla sweet for a second and then the oak kicks in more. The age shows here the most. Not bad. Less oak than the 2009 WLW to me. The tannins and soft alc burn is there for a long period of time.

Overall:
Not over oaked like I was afraid of. This may have mellowed some over the 6-8 months I have had it open. I am down to the last 200 mls and it will be gone today at the wedding I am heading to???

For $400 in the US, no chance I would buy it again, for the $125 it can be found for in Japan, I might get a bottle if I am over there again
Registered users can make comments on this review...Already registered? Log in here
---


Log in to be able to add your own review of this bottling.

&nbsp