Bourbon Reviews: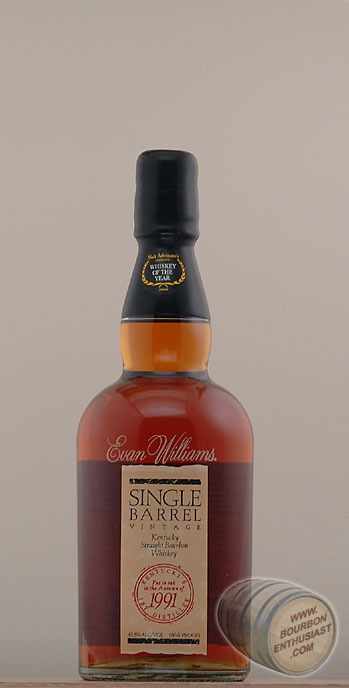 | | |
| --- | --- |
| Bottling Name | Evan Williams Single Barrel - Vintage 1991 |
| Bottled By | Heaven Hill Distilleries, Inc. Bardstown,KY |
| Type | Kentucky Straight Bourbon Whiskey |
| Alcohol content | 86.6 Proof |
| Availability | US: No Longer Available Japan: Unknown Duty Free: Not Available Europe: Unknown |
| Views (since 20080612) | 5872 |
| Bottling Info | |
Review from BuffaloBill (BourbonEnthusiast Review ID 1301, Created:20080918135206) View discussion on this review.

Purchased at:

Cape Cod, MA

Purchased for:

$34

Info on this bottle:

EWSB 1991 - MA's Whiskey of the year award.

Nose:

Light clove, dry spice, orange peel, dried and ripe fruit to the hilt. Now months later it has further opened, nicely. Peaches and fine mixed citrus off the top. It's not as stringent as it was upon opening. Initially it was tight and unaccessible. Euro in design - like a tight cognac. It's quite remarkable at this stage. Lovely.

Taste:

Six months ago I questioned whether it was cognac or bourbon. In a blindfold test I would have thought it was a cognac, but now it has mottled into a fine bourbon of rare quality. A medium burn... medium to thick viscosity, big legs. Quick drip rate. It's amazing. Incredible bouquet.

Finish:

Medium length... sharp.

Overall:
Initially I was disappointed and now I can't take my nose out of the glass. Malt Advocate was right about this one, but give it time. A long time opening... If you can find it, buy it.

BB
Registered users can make comments on this review...Already registered? Log in here
---


Log in to be able to add your own review of this bottling.

&nbsp