Bourbon Reviews: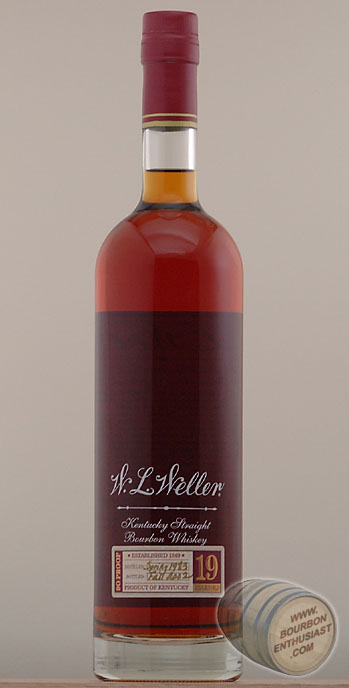 Bottling Name

W L Weller 19 year old

Bottled By
Buffalo Trace Distillery Frankfort,KY
Type

Kentucky Straight Bourbon Whiskey

Alcohol content

90 Proof

Availability

US: No Longer Available Japan: Not Available Duty Free: Not Available Europe: No Longer Available

Age

19

Views (since 20080612)

13040

Bottling Info
Antique amber color with mature aromas rich in wood spices (vanilla, cinnamon, teaberry), and dates, with a hint of leather and sweet corn. Beginning with molasses and toffee notes, the soothing taste evolves to dried fruit, ultimately becoming spicy, with notes of vanilla and freshly ground pepper. Long smooth finish includes notes of oak and leather.

"A beautiful array of wood spices and fruit. A big, mature, and very sophisticated whiskey that is on a very short list of America's finest Bourbons. It is also one of the oldest."

-Malt Advocate Magazine-
Review from spun_cookie (BourbonEnthusiast Review ID 1104, Created:20080601212605)
| | |
| --- | --- |
| Purchased at: | Gilbert cantina |
| Purchased for: | A little of my soul and 50 ml of EW 23yr |
| Info on this bottle: | 00 version |
| Nose: | Nice strong vanilla, but a lot of oak as well. There is a corn hit, but not like OGD, like candy corn... |
| Taste: | Dry, oak and vanilla extract. Not as sweet as the other wellers, but very nice. |
| Finish: | Dry. The vanilla is there, but much like extract. Light sweetness, but not like the otehrs. There is a good amount of oak. I prefer the new WL Wellers. |
| Overall: | Mark, the kind soul, opened this bad boy up at his tasting and I am very greatful. Diffrent than any weller I have ever had. |
Registered users can make comments on this review...Already registered? Log in here
---


Log in to be able to add your own review of this bottling.

&nbsp