Bourbon Reviews: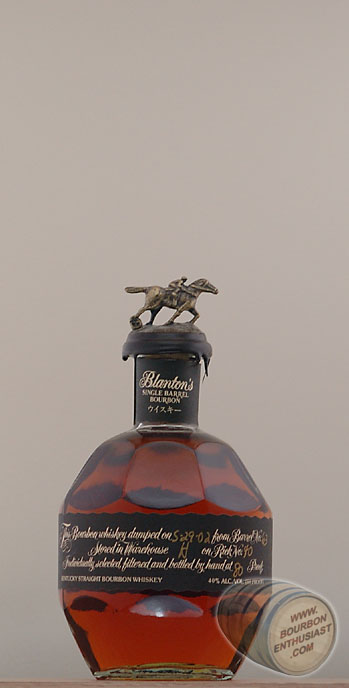 | | |
| --- | --- |
| Bottling Name | Blanton's Black |
| Bottled By | Ancient Age Distilling Co. Frankfort,KY |
| Type | Kentucky Straight Bourbon Whiskey |
| Alcohol content | 80 Proof |
| Availability | US: Not Available Japan: Available Duty Free: Available Europe: Not Available |
| Mashbill Info | BT high rye |
| Views (since 20080612) | 10758 |
| Bottling Info | Blanton's at 80 proof for the Japanese market. |
Review from bourbonguyjapan (BourbonEnthusiast Review ID 1171, Created:20080626053939)
Purchased at:

Aichi Prefecture

Purchased for:

some money

Info on this bottle:

dumped on 3.3.06. rick 11/warehouse H, barrel 36

Nose:
[Olfactory impressions]
Vanilla, sweet, corn.
Taste:
[Description of the initial taste impression]
Cosmetic (slightly), sweet, vanilla, tea?
Finish:
[Description of the lingering taste impression]
Dull, lingering and non-descript. A little fire at the end.
Overall:
[Overall impression of this bottling]
My first experience with Colonel Blanton.
I need to try the barrel-proof.
This was not the worst that I have had, but for the money I could have had an Elijiah with some change to spare.
Registered users can make comments on this review...Already registered? Log in here
---


Log in to be able to add your own review of this bottling.

&nbsp