Bourbon Reviews: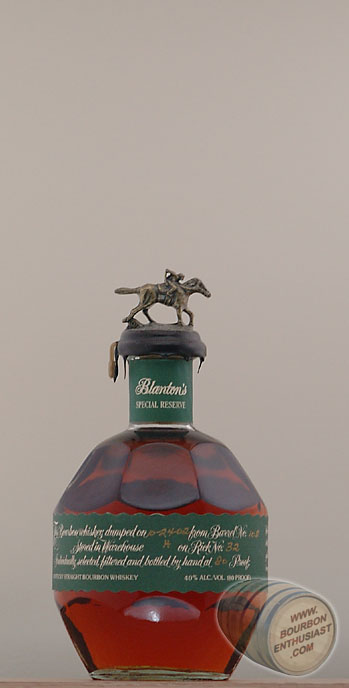 Bottling Name

Blanton's Special Reserve

Bottled By
Ancient Age Distilling Co. Frankfort,KY
Type

Kentucky Straight Bourbon Whiskey

Alcohol content

80 Proof

Availability

US: Not Available Japan: Unknown Duty Free: Available Europe: Unknown

Mashbill Info

BT high rye

Views (since 20080612)

12863

Bottling Info
<From their website> Blanton???s Special Reserve is the introduction to our award winning family of fine Kentucky bourbons. It is bottled at 40% alcohol by volume (ABV), therefore more appealing to beginning whiskey consumers.

Blanton???s Special Reserve is a natural selection for emerging markets.
Review from spun_cookie (BourbonEnthusiast Review ID 956, Created:20071224183629)
| | |
| --- | --- |
| Purchased at: | Carnival cruise ship |
| Purchased for: | $6.25 |
| Nose: | Light, but distinct. Little leather, oak, and fruit |
| Taste: | Smooth. Light tastes of leather and liquorish.. I think there may have been some light cinnamon |
| Finish: | I did not get a long finish from this. I thought I would have at least 45 secs, but is was mellow from start to finish ... there is some good light leather and tobacco, but not enough... |
| Overall: | Best thing on the ship (Old Grand Dad 86 and WT 101), but did not entice me enough to buy more.... |
Registered users can make comments on this review...Already registered? Log in here
---


Log in to be able to add your own review of this bottling.

&nbsp