Bourbon Reviews: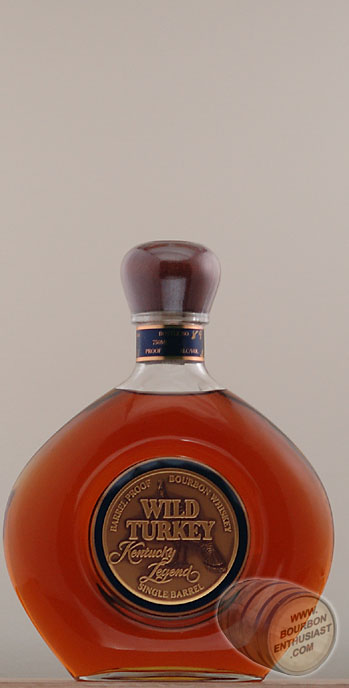 Bottling Name

Wild Turkey Kentucky Legend

Bottled By
Austin Nichols Distilling Co. Lawrenceburg,KY
Type

Kentucky Straight Bourbon Whiskey

Alcohol content

111 Proof

Availability

US: Not Available Japan: No Longer Available Duty Free: Unknown Europe: Unknown

Views (since 20080612)

9359

Bottling Info
Single Barrel, Barrel Proof

Similiar to their Rare Breed in that it is a Barrel Proof but this offering is from just a single barrel and not mixed together with other barrels. Truly unique and special.
Review from Mark (BourbonEnthusiast Review ID 28)
| | |
| --- | --- |
| Purchased at: | |
| Purchased for: | $82 but it varies greatly |
| Info on this bottle: | Barrel No. E-28, Bottle No. 52 |
| Proof Of this Bottle: | 119.2 |
| Nose: | Medium bodied, not heavy at all. |
| Taste: | Citrus in still noted with alcohol accents. It almost tastes like a more mature Rare Breed. The shocking thing is that the traditional rye spiciness that is present in Wild Turkey bourbons is not that predominant. It is a very well balanced, flavorful bourbon. |
| Finish: | |
| Overall: | |
Registered users can make comments on this review...Already registered? Log in here
---


Log in to be able to add your own review of this bottling.

&nbsp