Bourbon Reviews: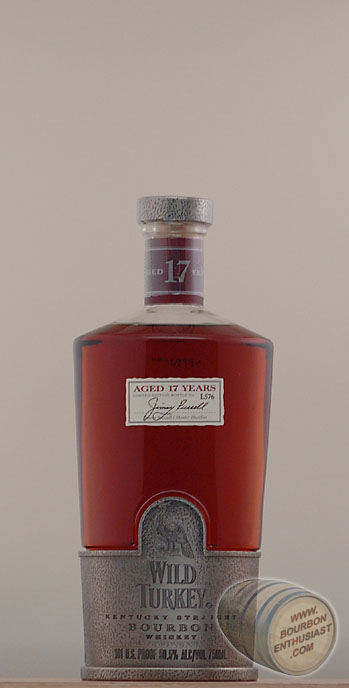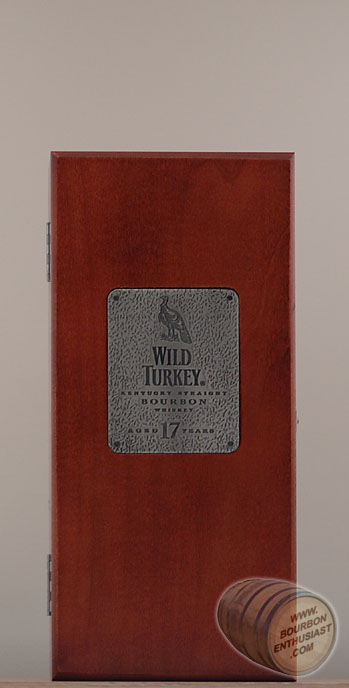 | | |
| --- | --- |
| Bottling Name | Wild Turkey 17 year old |
| Bottled By | Austin Nichols Distilling Co. Lawrenceburg,KY |
| Type | Kentucky Straight Bourbon Whiskey |
| Alcohol content | 101 Proof |
| Availability | US: Not Available Japan: No Longer Available Duty Free: Not Available Europe: Not Available |
| Age | 17 |
| Views (since 20080612) | 9984 |
| Bottling Info | One of the most beautiful bottles I have seen. Released only in Japan and in limited quantities several years ago. |
Review from Dump Bucket (BourbonEnthusiast Review ID 1537, Created:20090416175814)
Purchased at:

Gift

Purchased for:

Ferebie

Info on this bottle:

Stoopsie sample

Nose:
Some rye spice and oak. There is some earth in here that leans towards aging leaves and soil. There are touches of vanilla that come up in between the other scents, not as a standout sent, but one that merges the others into harmony.

There is more Oak in this WT than I have had in others, but not in a negative way.
Taste:

Smooth, smother than any other turkey since the early 90s. There is a ramp up to some good WT spice and wood, but not a lot of oak, just a moderate amount that sits with the vanilla and the sugars.

Finish:

Sweet and then a mellow spice that blends in with earth, vanilla and a touch of a burn throughout that works with the flavors.

Overall:
What a nice bourbon. The harmony of this bourbon reminds me of all the great bourbons from the 70s and 80s. No doubt I could get use to having a bottle of this to sip on.

This has more body than the WTAS and less spice than the WTRBs???

For the current cost (aution in Japan) it is too pricey. I would love to see a US version of this released.
Registered users can make comments on this review...Already registered? Log in here
---


Log in to be able to add your own review of this bottling.

&nbsp