Bourbon Reviews: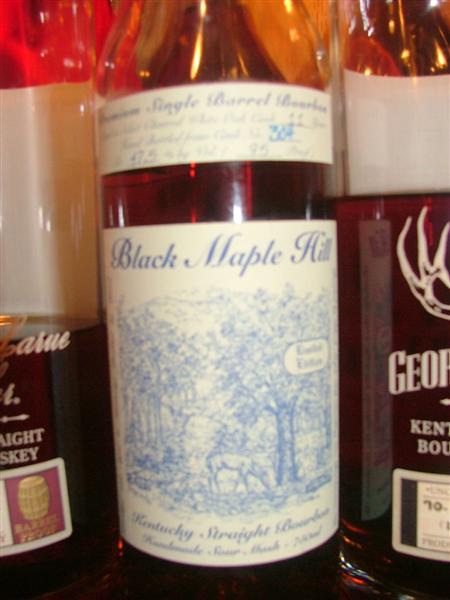 | | |
| --- | --- |
| Bottling Name | Black Maple Hill 11 year old |
| Bottled By | Kentucky Bourbon Distillers, Ltd. Bardstown,KY |
| Type | Kentucky Straight Bourbon Whiskey |
| Alcohol content | 95 Proof |
| Availability | US: No Longer Available Japan: Not Available Duty Free: Not Available Europe: Not Available |
| Age | 11 |
| Views (since 20080612) | 14202 |
| Bottling Info | |
Review from Bourbon Joe (BourbonEnthusiast Review ID 1287, Created:20080909201304) View discussion on this review.

Purchased at:

Kentucky

Purchased for:

???

Info on this bottle:

Cask 304

Nose:

When I opened the bottle I had a huge scent of green apples. In the glass it remained closed for some time, giving way to Caramel and a whisp of Butterscotch.

Taste:

A bold pallete, somewhat fruity. A nice burn at exactly the perfect proof of 95. Well balanced with the oak.

Finish:

A medium length finish.........of peaches. Lovely.

Overall:
This is a great bottle of bourbon. It is a pity that it is no longer made.
Proof that KBD can age and bottle fine bourbons.
Registered users can make comments on this review...Already registered? Log in here
---


Log in to be able to add your own review of this bottling.

&nbsp