Bourbon Reviews: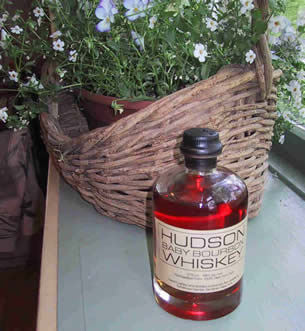 Bottling Name

Hudson Baby Bourbon

Bottled By
Tuthilltown Spirits Hudson Valley,NY
Type

Bourbon

Alcohol content

92 Proof

Availability

US: Available Japan: Not Available Duty Free: Not Available Europe: Not Available

Views (since 20080612)

35084

Bottling Info
There have been subsequent bottlings of this bourbon since it's first release. Batch IV of HUDSON BABY BOURBON is emerging from its casks to see the light of day after resting in our nursery with all its younger cousins. Our BABY matures in brand new charred American Oak casks.

HUDSON BABY BOURBON is made with 100% New York State corn. No additives, no coloring added. This is honest single-grain whiskey. Bottled at 92 proof, labeled, wax-sealed and numbered by hand at the distillery.


Review from Mike (BourbonEnthusiast Review ID 1838, Created:20100607163309, Updated:20100607181202)
| | |
| --- | --- |
| Purchased at: | Green's Liquors, Atlanta, GA |
| Purchased for: | $49 for 375 ml |
| Info on this bottle: | Hudson Four Grain Bourbon Whiskey Batch 02 Bottle 49F |
| Nose: | A robust aroma with a predominance of rye. Slightly medicinal with some vanilla and leather. There is a nice hint of citrus and flowers with a metallic cast. I like this aroma, it leads me on toward a sip.........but let us not proceed in haste. |
| Taste: | Very nice upfront sweetness that quickly gives way to a bit of rawness in the rye and yeasty bite. There is still a bit of the drying metallic effects, presumably from the pot still. |
| Finish: | Long with an edge. |
| Overall: | Just enough sweet depth to keep this boy from scratching the mouth too much. I like it but think I will find it most useful in vattings. I believe a vatting of 65% Maker's Mark (MM is a very useful bourbon for us experimenters) and 35% Hudson Four Grain will liberate the one and tame the other. Unfortunately not worth $49 for 375 ml.......but I bought it out of curiosity and because I like to support adventurous distillers |
Registered users can make comments on this review...Already registered? Log in here
---
Review from MikeK (BourbonEnthusiast Review ID 1293, Created:20080912165806, Updated:20080912165850)
| | |
| --- | --- |
| Purchased at: | Albany NY |
| Purchased for: | $35 |
| Info on this bottle: | Year - 2008; Batch 3; Bottle 507 |
| Nose: | Mint and Vanilla with a (good) muskiness |
| Taste: | Sweet, a little bitey. Has a pine resin/juniper flavor that reminds me a lot of Woodford Reserve. I wonder if this flavor comes from the pot still? Body is light to medium. Faint caramel. |
| Finish: | Sweet, medium length |
| Overall: | A pleasant bourbon. Definitely young, but not bad at all. There are many better bourbons out there for the price, but there are a lot worse ones too, and by distilleries that have been at it for decades. It was fun to try something totally different and these guys might end up with an outstanding product down the road. |
Registered users can make comments on this review...Already registered? Log in here
---


Log in to be able to add your own review of this bottling.

&nbsp