Bourbon Reviews: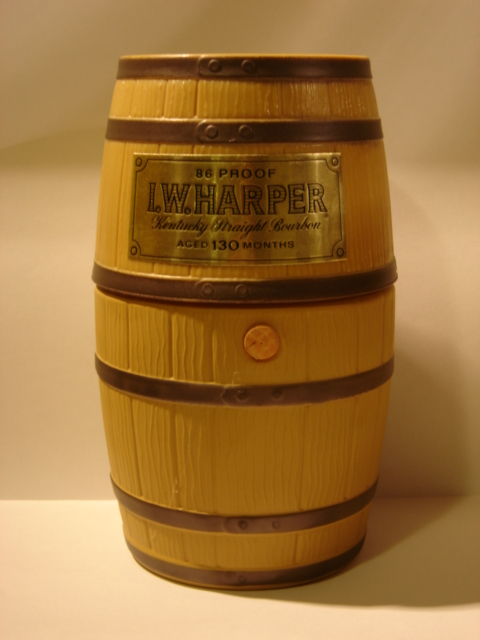 Bottling Name

I.W. Harper 130 month

Bottled By
United Distillers ,
Type

Kentucky Straight Bourbon Whiskey

Alcohol content

86 Proof

Availability

US: No Longer Available Japan: Not Available Duty Free: Not Available Europe: Not Available

Views (since 20080612)

10524

Bottling Info
[from kystraightbourbon]
Distilled & Bottled By I.W. Harper Distilling Company
Louisville, KY.

D.S.P. KY.-1
4/5 Quart

Kentucky Straight Bourbon Whiskey
Aged 130 Months
86 Proof

(picture from kystraightbourbon)
Review from kystraightbourbon (BourbonEnthusiast Review ID 633, Created:20061106175522)
| | |
| --- | --- |
| Purchased at: | Hayes Market, Southfield, MI |
| Purchased for: | $25 |
| Proof Of this Bottle: | 86 |
| Nose: | There is a mild numbing sensation from the alcohol. At first my intial impression was of caramel, but now I recognize the scent as butterscotch. It reminds me of eating Brach's butterscotch candies. There is also a maple syrup component buried beneath the initial impression. After airing for a few minutes, some oak and vanilla come out a little bit more. It is very sweet smelling and quite pleasant. It lacks the "ditto ink" smell that I have found in the 4 year and the 15 year olds. |
| Taste: | I would describe this bourbon as having a buttery/creamy feel as opposed to the oily feel of the 15 year old. There is some slight burn on the tongue, but nothing unpleasant, and it quickly fades. Again, I'm amazed at the difference in flavor that I'm getting this time. It is quite sweet with more of a butterscotch tone. I also detect some caramel and a hint of orange peel. I'm not getting so much vanilla this time around. Again, this is very pleasant. |
| Finish: | The oak comes out here with an impressive dryness. Usually this much dryness is accompanied by a lot of bitterness (in my experience), but not here. The finish is of medium length with impressions of butterscotch and vanilla. There is no burn or warmth present in the throat or chest. |
| Overall: | I really enjoy this bourbon. So much so, that I had to argue with the store manager to get another decanter for the same price as the first. He tried to double the price at the register even though the price was printed on the package. I am surprised by the difference between this, the 4 year, and the 15 year. I almost have to wonder if it is a different recipe. It is a shame that it is no longer being produced. |
Registered users can make comments on this review...Already registered? Log in here
---


Log in to be able to add your own review of this bottling.

&nbsp