Bourbon Reviews: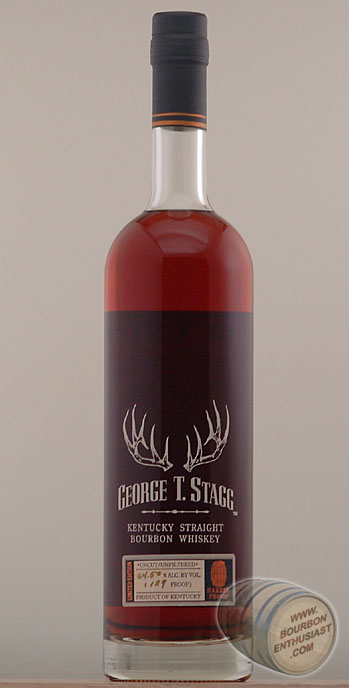 Bottling Name

George T. Stagg 2006

Bottled By
Buffalo Trace Distillery Frankfort,KY
Type

Kentucky Straight Bourbon Whiskey

Alcohol content

140.6 Proof

Availability

US: Available Japan: Unknown Duty Free: Unknown Europe: Unknown

Views (since 20080612)

9309

Bottling Info
[from BT press release 3OCT2006]

George T. Stagg

This year's George T. Stagg was found on the eighth floor of Warehouse I. It was distilled back in the spring of 1990 and weighs in at a healthy 140.6 proof! This whiskey is bold with the character of sweet dark chocolate-classic George T. Stagg.
Review from spun_cookie (BourbonEnthusiast Review ID 915, Created:20071123162838)
Purchased at:

Wally's WIne on line

Purchased for:

$54

Proof Of this Bottle:

140.6

Nose:
Rocks:
English Afternoon tea, Milk Chocolate, light alcohol (less than the 07) fig, brown sugar, and as the ice melts the vanilla is more prononced
Taste:
Rocks:
Chocolate and as the alcohol boils off... tongue tingles and I smile.... There is a full fig and more strong milk chocolate and vanilla that slides into brown sugar...


Finish:
Rocks:
0-15 seconds is strong chocolate and some fruit I cannot discern yet...
15-30 seconds the alcohol comes and goes but the chocolate is continuous... a tad bit of fig and more vanilla/chocolate
30-45 seconds the scent of Tea I smelt returns in a light tastes at the end of the finish.
45-60 the finish is mostly gone. It reminds me of a cup of tea English Style (cream and sugar)


Overall:
I like it. Less kick in the pants than the 07, but a little more complexity. The finish ends a few seconds sooner.

I can see why Devin is in love with Stagg. For the price it is a great bourbon with moderate complexity and a whole lot of fun.
Registered users can make comments on this review...Already registered? Log in here
---
Review from Mike (BourbonEnthusiast Review ID 832, Created:20070905133923, Updated:20070909170859)
Purchased at:

Surf Beverage, Myrtle Beach, SC

Purchased for:

$54.99

Nose:

This bourbon was cut to about 105 proof. Dark chocolate, coffee, toasted nuts, vanilla, caramel, and a shade of oak greet the nose very warmly. You definitely want to give this stuff a try. The alcohol does not roar out at you. The nose of this second bottle of '06 Stagg is not quite as rich as the first one. Still, a remarkable bourbon nose though.

Taste:

Very rich mouthfeel with corn sweetness and orange playing around upfront. The spicy, peppery rye assets itself at midpalate and is maintained by the high viscosity of the bourbon. Complex, rich, thick, robust..............just marvelous stuff.

Finish:

The finish of this bottle of Stagg is much superior to that of the first bottle of the '06 I purchased (and for more money too). It is more complex, balanced and lasts longer.

Overall:
Nose to nose the first bottle of '06 Stagg is better, but its finish is somewhat abbreviated and therefore a slight disappointment. The taste of the second Stagg is the equal of the first and the finish of the second bottle is much better. This second Stagg is about as good as the 2005 Stagg. While not inexpensive at $55, Stagg is a great bourbon by any of my measures, and well worth what I paid. I am glad I bought the second bottle, because it is slightly different and definitely a more complete bourbon (I am doing a side by side comparison......both at about 105 proof).

Now, for my first song this afternoon, I am going to sing 'The Streets of Laredo', one of my favorite 'cowboy' songs. The dog howl you hear in the background will be 'Barleycorn'. Whether his howl is in accompaniment or in protest, I am not sure. Makes me no nevermind.
Registered users can make comments on this review...Already registered? Log in here
---
Review from Mike (BourbonEnthusiast Review ID 808, Created:20070717155543, Updated:20070717164151)
Purchased at:

Sigman Bottle Shop, Conyers, GA - one of six bottles allocated to GA

Purchased for:

Enough to feed the cihickens for a while

Info on this bottle:

Uncut/Unfiltered

Proof Of this Bottle:

140.6

Nose:
UNCUT: At full throttle proof the alcohol does not dominate as expected, even though it is quite strong. The vanilla, caramel, and hint of chocolate are able to hack a path through the alcohol jungle to find your nose.

CUT: At about 105 proof the alcohol is almost as assertive as at full proof, but the other aromas bloom beautifully. The combination of vanilla, caramel, corn, oak, rye, and leather that is quite thick, is just mesmerizing.
Taste:
UNCUT: Thick buttery sweetness greets the upfront palate before the alcohol seizes control and obliterates all in its path.

CUT: A rich creamy corn sweetness that is lush, is followed by a spicy flash that grows with each passing moment, giving over to a distinct leathery dryness.




Finish:
UNCUT: The alcohol burn starts early and ends late. Would make good aromatic stove fuel.

CUT: A finish unbefitting the nose and the initial taste. The rich and creamy sweetness is overriden by the desert dryness that dessicates the mouth.
Overall:
UNCUT: No thank you!

CUT: In my opinion, this Stagg is a disappointment compared to the previous Staggs I have had (e.g. the spring '05 KY release, a much better whiskey). A good example of what can happen with overaging.......the wood takes over.
Registered users can make comments on this review...Already registered? Log in here
---
Review from TNbourbon (BourbonEnthusiast Review ID 626, Created:20061102204958, Updated:20061102205043)
| | |
| --- | --- |
| Purchased at: | Middle Tennessee |
| Purchased for: | $59.99 |
| Proof Of this Bottle: | 140.6 |
| Nose: | Coffee grounds, vanilla, maple syrup nose. |
| Taste: | Rawhide, loose-leaf tobacco, black pepper taste. |
| Finish: | Dry, very warm, satisfied finish. |
| Overall: | "HazMat III: The Return of Elemental Stagg" Heathcliff-evoking (think, "Wuthering Heights") |
Registered users can make comments on this review...Already registered? Log in here
---


Log in to be able to add your own review of this bottling.

&nbsp