Bourbon Reviews: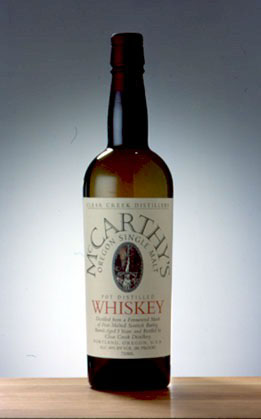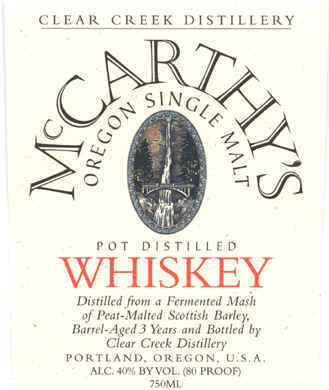 Bottling Name

McCarthy's Single Malt

Bottled By
Clear Creek Distillery Portland,Or
Type

Whiskey

Alcohol content

80 Proof

Availability

US: Available Japan: Unknown Duty Free: Not Available Europe: Unknown

Mashbill Info

Scottish style and peated malt

Age

3

Views (since 20080612)

7478

Bottling Info
Made from peat-malted barley brought in from Scotland, our whiskey would be a single malt Scotch If Oregon were Scotland. Widmer Brothers ferments the peat-malted barley into a "wash" or unfinished beer. We don't hop it or finish it or do any of the other things done to finish a beer. Using the unfinished wash allows us to get all the flavor and character of the malt when we distill using our pot stills. We then barrel-age the rough distillate in several kinds of oak barrels. The result is a smooth, peat-y whiskey with a surprisingly clean finish for such a young whiskey. Production is very limited because what I put in the barrel doesn't come out for years.


- Courtesy of Clear Creek's Website
Review from MikeK (BourbonEnthusiast Review ID 312, Created:20051121155408)
| | |
| --- | --- |
| Purchased at: | Federal Wine and Spirits, Boston MA |
| Purchased for: | $29.00 |
| Proof Of this Bottle: | 80 |
| Nose: | Medium smoke and peat with hints of salt and seaweed. Like taking a deep breath of ocean air while standing on a rocky shoreline. |
| Taste: | Fresh and clean. The rich flavor of an Islay with the manners of a Highland. Not overly complicated but quite pleasant. |
| Finish: | Medium length finish. Very clean. Smoke and peat of course. |
| Overall: | Wow! What an excellent early effort by Steve McCarthy. Very reminiscent of an Islay malt, particularly Ardbeg. Not as powerful or refined, but quite good for only 3 years old. As it says in the header, this is "scotch" made in Oregon. Very reasonably priced. I can't give enough credit to a small distillery that tries something totaly new and prices it right. Go find a bottle and encourage this kind of behavior. |
Registered users can make comments on this review...Already registered? Log in here
---


Log in to be able to add your own review of this bottling.

&nbsp