Bourbon Reviews: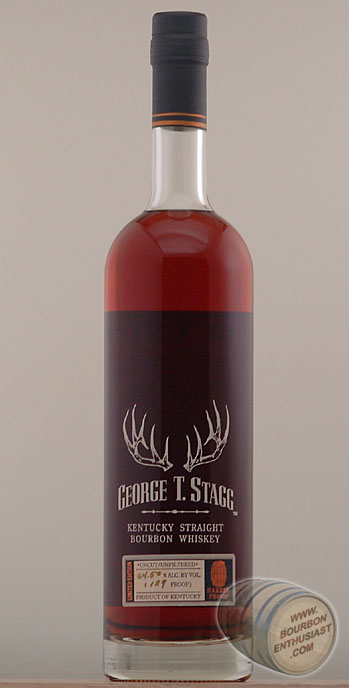 Bottling Name

George T. Stagg 2005 (spring KY release)

Bottled By
Buffalo Trace Distillery Frankfort,KY
Type

Kentucky Straight Bourbon Whiskey

Alcohol content

130.9 Proof

Availability

US: Available Japan: Not Available Duty Free: Not Available Europe: Not Available

Age

16

Views (since 20080612)

5695

Bottling Info
BUFFALO TRACE DISTILLERY ANNOUNCES SPECIAL

SPRING RELEASE OF GEORGE T. STAGG



FRANKLIN COUNTY, KY - Just when folks thought they were going to have to wait until the fall for a George T. Stagg fix, Buffalo Trace has a special treat for bourbon enthusiasts! George T. Stagg Kentucky Straight Bourbon Whiskey will make a special appearance on store shelves this spring with a limited edition bottling.

Since our introduction of our George T. Stagg, we've carefully reviewed our inventory of older barrels to see if there were some potential candidates for future bottlings. Ronnie Eddins, our warehouse manager of 43 years, has been carefully watching these barrels mature in Warehouse Q. He is proud to announce that a few barrels on floors 2 and 4 are ready for release.

As with three previous editions of Stagg, the product will be bottled uncut and unfiltered. The spring installment spent 16 years and eight months aging in Warehouse Q. The proof among the barrels varied slightly. Therefore, we're proud to offer two different variations - 130.9 and 131.8 proof.

"We are very excited to have found some barrels suitable for a unique spring release of Stagg. This is a pleasant surprise," said Kris Comstock, Bourbon Brand Manager at Buffalo Trace Distillery.

The 2004 fall edition of Stagg received a "highly recommended" rating from Wine Enthusiast Magazine. Famed whiskey writer Jim Murray, named Stagg "2004 World Whiskey of the Year" in his 2004 Whiskey Bible and in its 2002 debut, Stagg took home "Whiskey of the Year" honors from Malt Advocate Magazine.





- Bottle in picture is not of an 05' bottling
Review from Mike (BourbonEnthusiast Review ID 717, Created:20070213132945)
Purchased at:

Chucks, Bowling Green KY

Purchased for:

$69.99

Proof Of this Bottle:

130.9

Nose:
I am reviewing at the full 131 proof and diluted to 105 proof.
A nose as rich (in both proofs) as there is in any bourbon in my experience. Just plain great. A creamy sweetness full of vanilla, baked apples, nuts, pecan pie, leather, tobacco, oaky dryness, creamed corn, and rye. The nose of both is very dessert like.
Taste:

The taste is thick almost to the point of syrup. Along come the oak, rye spice and alcohol pepper at mid-palate. At 131 proof the alcohol doesn't really chomp down until the back of the mouth, unlike any other very high proof bourbon in my experience. The 105 proof gives up nothing in the way of thick sweetness, spice, oak that is very dry, and gains by giving up the alcohol heat. The taste is quite like a bourbon liqueur, but is not cloying because the oak holds the sweetness in check.

Finish:

The finish of the 131 proof is very alcoholic........too much so for the likes of me. The 105 proof remains sweetly rich across most of the palate with the spice and dry oak starting to sing along about two thirds of the way back, biting their way down the throat.

Overall:

The after effects of the 131 proof are just too hot for me to handle. The 105 proof, however, is a marvelous bourbon that comes close, as I noted above, to a bourbon liqueur. It could readily serve as an aperitif or a digestif. The rich sweetness combined with the dry oak and rye spice is very memorable. A 750 ml bottle diluted to 900 ml is a wonderful exilir.
Registered users can make comments on this review...Already registered? Log in here
---
Review from Mike (BourbonEnthusiast Review ID 516, Created:20060530144135, Updated:20060601061415)
| | |
| --- | --- |
| Purchased at: | Chuck's Liquor Outlet, Bowling Green, KY |
| Purchased for: | $69.99 |
| Nose: | The nose is a rich mixture of everything you find in the most aromatic of bourbons. There is leather, rye, citrus, creamy butterscotch, brown sugar, caramel, vanilla, oak, tobacco, and apple to name a few. This is smeller's heaven!! |
| Taste: | At 130 proof this bourbon leaps out of the glass at you. But believe it or not, the alcohol is managed by the other gustatory characters.........if only barely. The body of this bourbon is amazing in its heartiness, flavors explode in your mouth! The alcohol, the rich creamy sweetness and the spices have been rehearsing for 16 years or so and have their act together. |
| Finish: | Long and powerful, lasting way into the night! |
| Overall: | The party responsible for this bourbon should be given a medal and a raise! A unique spirit that makes you glad you drink bourbon. Where's my grandma? Imo slap her! (For you non southerners, when something is good enough to make you want to slap yo grandma, it be's powerful good!). Now, Imo write a song about this........'Barleycorn!' (that's my dog), Com'ere! We gone make some music!!' |
Registered users can make comments on this review...Already registered? Log in here
---


Log in to be able to add your own review of this bottling.

&nbsp