Bourbon Reviews: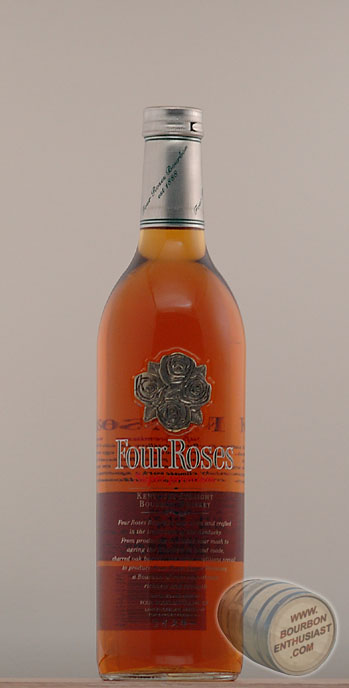 Bottling Name

Four Roses Super Premium

Bottled By
Four Roses Distillery LLD Lawrenceburg,KY
Type

Kentucky Straight Bourbon Whiskey

Alcohol content

86 Proof

Availability

US: Not Available Japan: Available Duty Free: Not Available Europe: Not Available

Views (since 20080612)

12753

Bottling Info
<From bottle> Four Roses bourbon was born and crafted in the traditions of old Kentucky from producing a unique sour mash to aging the bourbon in hand made charred oak barrels The same traditions prevail to produce Four Roses Super Premium, a bourbon of rare smoothness, richness and strength.

<From Four Roses>

Often referred to as Platinum for the elegance of its rich and complex taste, this small batch bourbon was first released in 1992 to commemorate Kentucky's 200th year of statehood. Each bottle of Super Premium, blends carefully selected barrels of 8 year old bourbon, with barrels aged more than 10 years, allowing the traditional mellow, smooth characters of Four Roses bourbon to be brought to their peak.
Review from bourbonv (BourbonEnthusiast Review ID 1591, Created:20090531154347) View discussion on this review.

| | |
| --- | --- |
| Purchased at: | |
| Info on this bottle: | Sample Bottle from distillery |
| Nose: | Very fruity - apples, pears and maybe a hint of apricot - with some sweet spice and oak wood. |
| Taste: | Very light, but fruity with caramel apples and cinnimon sticks with a bit of oak. |
| Finish: | Very long and it gets better as it goes on. The finish starts fruity sweet and then goes to caramel and vanilla before transmuting into a nice sweet but dry oak wood. |
| Overall: | Another Four Roses product that should be available in the United States. Great bourbon from Four Roses. |
Registered users can make comments on this review...Already registered? Log in here
---
Review from spun_cookie (BourbonEnthusiast Review ID 1012, Created:20080205193338)
Purchased at:

Japan

Purchased for:

Trade :o)

Info on this bottle:

Pretty metal label, nice silver top that covers a screw cap ???? - nice story but limited info

Nose:

MMmmmm has that four roses nose to it. Floral and fruits... just a hint of alcohol... and I think a little copper, oak and leather.

Taste:
Very light.. Fruits, light oak and more fruits


Finish:
Light finish that keeps on giving. I want to say cantaloupe, honey dew, light peaches and other fruits..

This goes well out to 60 seconds, but never reaches up and grabs you. Just hangs around and you get to enjoy the complex flavors.

Overall:
This is a neat bourbon... very light and fun.

I will have to have a Four Roses show down with this and the Small, Single and 40th.... From my memory this is like the small batch with more complexity...

For the ~cost, the 40th is the way to go.
Registered users can make comments on this review...Already registered? Log in here
---


Log in to be able to add your own review of this bottling.

&nbsp