Bourbon Reviews: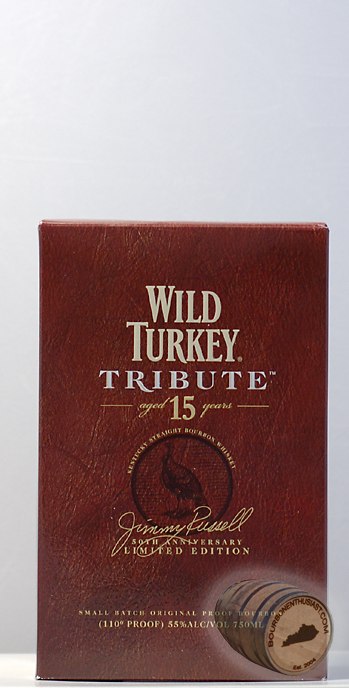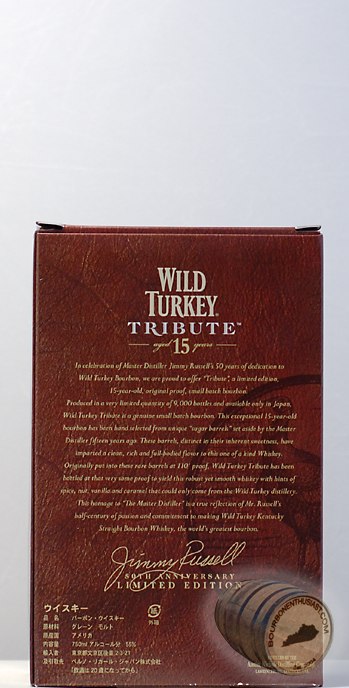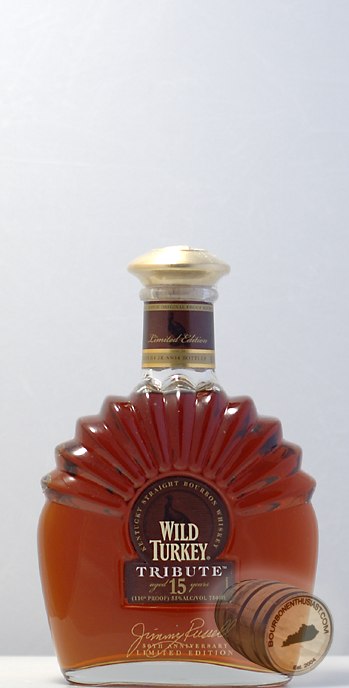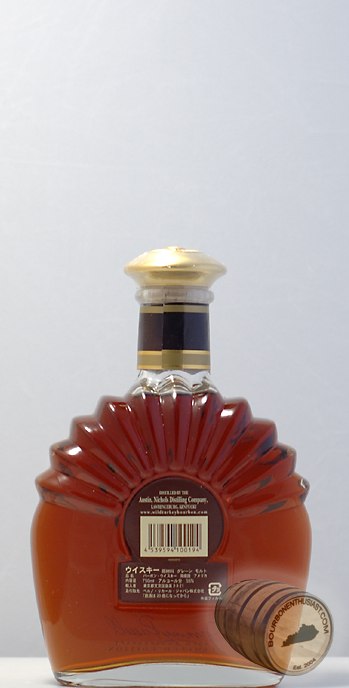 Bottling Name

Wild Turkey Tribute (Japanese Version)

Bottled By
Austin Nichols Distilling Co. Lawrenceburg,KY
Type

Kentucky Straight Bourbon Whiskey

Alcohol content

110 Proof

Availability

US: Not Available Japan: Available Duty Free: Not Available Europe: Not Available

Age

15

Views (since 20080612)

9076

Bottling Info
(from the back of the box)

"In celebration of Master Distiller Jimmy Russel's 50 years of dedication to Wild Turkey Bourbon, we are proud to offer "Tribute", a limited edition, 15 year old, original proof small batch bourbon.

Produced in a very rare limited quantity of 9,000 bottles and available only in Japan, Wild Turkey Tribute is a genuine small batch bourbon. This exceptional 15 year old bourbon has been hand selected from unique "sugar barrels" set aside by the Master Distillwe fifteen years ago. These barrels, distinct in their inherent sweetness, have imparted a clean, rich and full bodied flavor to this one of a kind Whiskey.

Originally puy into these rare barrels at 110 proof, Wild Turkey Tribute has been bottled at that very same proof to yield this robust yet smooth whiskey with hints of spice, nut, vanilla and caramel that could only come from the Wild Turkey distillery.

This homage to "The Master Distiller" is also a true reflection of Mr. Russel's half-century of parrion and commitment to making Wild Turkey Kentucky Straight Bourbon whiskey, the world's greatest bourbon"
Review from Dump Bucket (BourbonEnthusiast Review ID 1830, Created:20100422162132)
Purchased at:

eBay

Purchased for:

Too damn much

Nose:
Lots of earth and wet oak. Not overwhelming oak but some in ther. There is vanilla, cherrys and green apples.

My wife get cherry coke and BBQ. The molasis and vanilla are there as this opens up.
Taste:

SMoooth. Wow that is smooth for 110 proof. ALl of the vanillas and cherries come out in this one.

Finish:

I get teh cherry coke here a little and then into soem vanilla and earth. The burn is just a touch and all of the wonderful flavors rule this drink.

Overall:

I was really concerened about this one. For the $$$ it is not a cheap pour, but it is a great one.Much of the very classic WT from teh 80s is in this one. If you have some $$$ to burn, this is one to pick up.
Registered users can make comments on this review...Already registered? Log in here
---


Log in to be able to add your own review of this bottling.

&nbsp