Bourbon Reviews: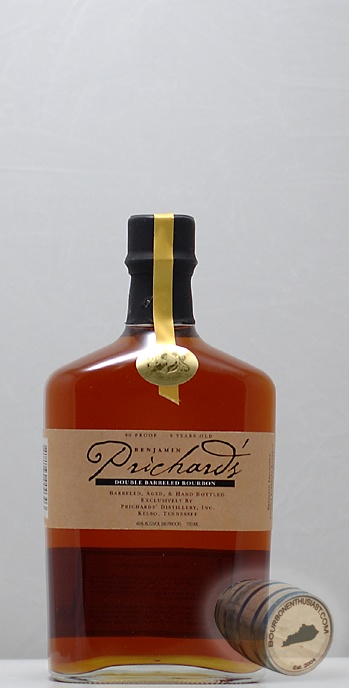 Bottling Name

Prichards Double Barreled

Bottled By
Prichard's Distillery, Inc. Kelso,TN
Type

Bourbon

Alcohol content

90 Proof

Availability

US: Available Japan: Unknown Duty Free: Unknown Europe: Unknown

Age

9

Views (since 20080612)

33192

Bottling Info
A little known fact is, most whiskies are barreled at relatively high proof and cut to bottle proof with water. "Your whiskey has been watered down before you even screw off the cork". Can you imagine how this dilutes the flavor?

Benjamin Prichard's Double Barreled Bourbon has been cur, then rebarreled in charred oak barrels and aged again. This exclusive process restores and enhances the natural flavors bourbon is so noted for.
Review from spun_cookie (BourbonEnthusiast Review ID 1027, Created:20080224215141)
| | |
| --- | --- |
| Purchased at: | Bevmo Sac, CA |
| Purchased for: | $35 |
| Nose: | Not a bad nose, but nothing remarkable. |
| Taste: | Disappointing. This is one that many rave about... but I have finished this one.. and it disappoints |
| Finish: | Short... lacks depth and complexity... |
| Overall: | I usually review a bourbon about 50% through a bottle so I can get some thoughts around it... but I had to finish this one.. and it did nothing for me... |
Registered users can make comments on this review...Already registered? Log in here
---
Review from jburlowski (BourbonEnthusiast Review ID 526, Created:20060612083018)
Purchased at:

Part Source, Bellevue, KY

Purchased for:

Approx $40

Info on this bottle:
Proof Of this Bottle:

90

Nose:

The nose is pleasant and subdued, with hints of vanilla.

Taste:
The taste is quite smooth and almost buttery; toffee and vanilla accents predominate.

Finish:

The finish is also quite smooth and short with little discernable burn.

Overall:
This is one very drinkable and likeable bourbon.

But my overall impression is one of disappointment. This bourbon is agreeable and very approachable. But it seems to lack any soul or unique character. Every aspect seems to be subdued and restrained and gentle. There is no distinguishing individuality or trait. It is all too comfortable and middle-of-the road. It is hard to imagine one being either offended or wowed by this pour. It is a good but not noteworthy in any way. This is a product sold at a premium price that has, in my opinion, only a prosaic personality.

Worth a try but, in the end, not worth the cost.

Registered users can make comments on this review...Already registered? Log in here
---


Log in to be able to add your own review of this bottling.

&nbsp