Bourbon Reviews: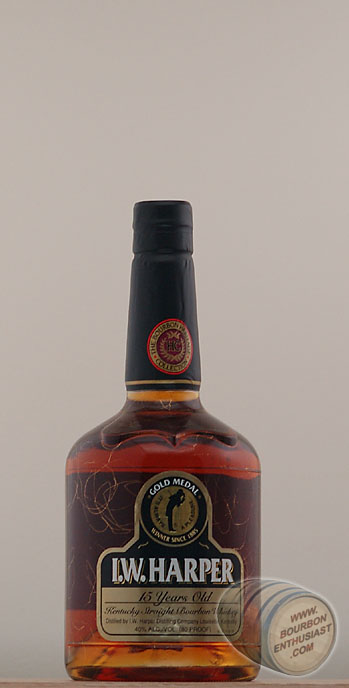 | | |
| --- | --- |
| Bottling Name | I. W. Harper 'B.H.C.' |
| Bottled By | United Distillers , |
| Type | Kentucky Straight Bourbon Whiskey |
| Alcohol content | 80 Proof |
| Availability | US: No Longer Available Japan: Not Available Duty Free: Not Available Europe: Not Available |
| Age | 15 |
| Views (since 20080612) | 15923 |
| Bottling Info | Bourbon Heritage Collection |
Review from BuffaloBill (BourbonEnthusiast Review ID 1161, Created:20080622190927)
| | |
| --- | --- |
| Purchased at: | Luke's Liquor's / W. Yarmouth, MA (Cape Cod) |
| Purchased for: | $40 |
| Info on this bottle: | I. W. Harper - 15 Year (on the close-out table) |
| Nose: | Clover Honey & Butter, a light Rye. Initially simplistic and then it begins to show a subtle elegance. A mild citrus edge that does not overpower the butter. Rather inky... then it tapers. In a blindfold test I would have guessed Old Michter's, then no. Some nice wood comes through after five-to-ten minutes of opening. For an 80 Proofer this has more complexity than I anticipated. It's round with a light dry spice. Butterscotch. |
| Taste: | Fairly light, quick and subtle burn, fairly long and slender. Not linear. It hits a mild crescendo then drops off to a final drone. Second pour: After the bottle was opened for 15 minutes it now comes across like Pappy 15 in the nose... then evaporates. Nearly identical, but without as much depth and intensity. Again, a little inky. Rye. Dry Spice... Tasting: Light Rye, inky, de-crescendo, waiting - clean and slightly chewy. Cool softness... |
| Finish: | Clean, medium to long. It has a very interesting curve with integrated flavors. This is the best 80 Proof bourbon I have ever tasted!!! The 15 Year aging shows through in texture and tone. Whomever the distiller was thoroughly knew what they were going after. This is NOT simple unidimensional swill, it's a classic and I will treasure it. Understated. |
| Overall: | Impressive. Not to be compared with 100's or Cask Strength editions because that's NOT what it was meant to be. This is highly respectable, drinkable neat, and almost too good for an uneducated palette. Now out of production - I took the risk of purchasing it, because anything under 90 usually does not hold my attention. This one did... Cheers! |
Registered users can make comments on this review...Already registered? Log in here
---
Review from ACDetroit (BourbonEnthusiast Review ID 979, Created:20080109231509)
Purchased at:

Small Store North of Detroit

Purchased for:

$34.95

Info on this bottle:

Dusty from years of shelf stay

Proof Of this Bottle:

80

Nose:

Is very subtle with strong hints of honey. It over powers anything else in the nose and I think to myself if this tastes like it smells we are in for a ride.

Taste:

The first hit as the nose would have it is honey, fading to light clove with a hint of oak. Every thing about this bourbon is subtle and light.

Finish:

Is light with the oak staying but it still has that honey sweetness lingering on the tongue!

Overall:
The first taste of this bottle was at the end of the night and I found it flat with no potential. A few days later I went and had it first of the night and wow!! If you want to get everything this bottle has to offer you'll have to start with it. It's so subtle any thing before it will hid most of what it offers.
I am really enjoying it now and have grabbed a few to back it up for when this one goes!
Registered users can make comments on this review...Already registered? Log in here
---
Review from kystraightbourbon (BourbonEnthusiast Review ID 602, Created:20061011194719) View discussion on this review.

| | |
| --- | --- |
| Purchased at: | Hayes Market, Southfield, MI (overpriced and crooked) |
| Purchased for: | $46 |
| Info on this bottle: | Top shelf and dusty from years of sitting waiting to be purchased. |
| Proof Of this Bottle: | 80 |
| Nose: | This is my second time with this bourbon and I still smell a lot of caramel. I also detect some vanilla, ethanol, oak, almonds, ditto ink (does anyone remember that stuff?), and fruit. |
| Taste: | This time around, I found it to be a little sweeter than my initial impression. Initially there is some vanilla and caramel which then gets dominated by oak char and a bunch of bitterness. There is something else present, almost reminds me of black licorice or anise. |
| Finish: | The finish was of medium length and dry with some caramel dominated by oak char bitterness. There was some heat in the chest which lasted a little longer than the flavor. |
| Overall: | I still cannot believe this is part of a Heritage Collection. A wasted 15 years. I thought that the low proof was due to bad aging and that anything bottled stronger would further compound its flaws. The 130 month old is a much better bourbon. |
Registered users can make comments on this review...Already registered? Log in here
---


Log in to be able to add your own review of this bottling.

&nbsp