Bourbon Reviews: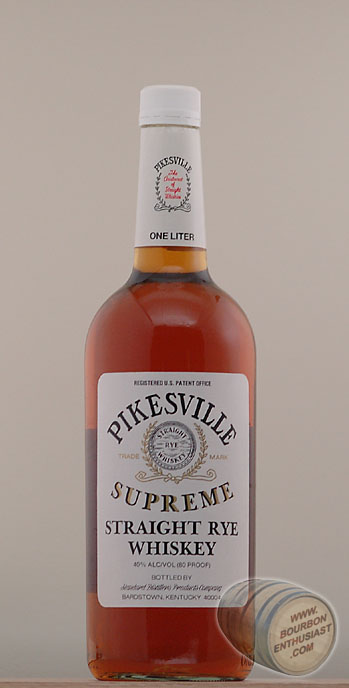 | | |
| --- | --- |
| Bottling Name | Pikesville Supreme |
| Bottled By | Heaven Hill Distilleries, Inc. Bardstown,KY |
| Type | Kentucky Straight Rye Whiskey |
| Alcohol content | 80 Proof |
| Availability | US: Available Japan: Not Available Duty Free: Not Available Europe: Not Available |
| Mashbill Info | probably sourced from Brown Foreman from 1996-2005? |
| Age | 3 |
| Views (since 20080612) | 17115 |
| Bottling Info | |
Review from ethangsmith (BourbonEnthusiast Review ID 2106, Created:20120807101545)
| | |
| --- | --- |
| Purchased at: | Midway Liquors, Joppa MD |
| Purchased for: | $11.99 |
| Info on this bottle: | 3 years old, 750ML |
| Nose: | Rye. Rye. Rye. A slight hint of the oak, and a little of a butterscotch or cream soda aroma. Mostly grassy and earthy. |
| Taste: | This is certainly rye whiskey. Being only 3 years old, the grain is at the forefront, but the oak is there. It's mild and grainy, but yet seems to have a decent body of flavor. It's very earthy and grassy and has a slight tea or mint flavor. |
| Finish: | Not much here. There is little oak and the rye fades out pretty quickly. |
| Overall: | This is a great value- IF you can find it! The bulk of HH rye goes to the more popular Rittenhouse brand, so Pikesville is only available in one or two states. While it's nothing out of this world, for its price, it is a great whiskey that can be drank neat and still enjoyed. With the short aging, the rye grain flavors really come out, which gives a great experience |
Registered users can make comments on this review...Already registered? Log in here
---
Review from gillmang (BourbonEnthusiast Review ID 609, Created:20061016051108, Updated:20061018034002)
Purchased at:

Baltimore

Purchased for:

circa $12.00

Info on this bottle:

Current bottling, probably Bernheim-made

Proof Of this Bottle:

80

Nose:

Strong rye impression (acetone/varsol in a good way!), not dissimilar to the nose of Anchor Potrero Hostalings (if you discount the juniper note), with some medium-aged "bourbon barrel" in background and behind that a faint fruity quality, like ripe apples or pears

Taste:

Pronounced rye and medium-age wood accents yet rounded out in a certain way.

Finish:

Not an over-long finish but the rye keeps going

Overall:
This must be the only case where courtesy of certain bourbon board members I have tasted the original, now defunct whiskey (Maryland-distilled) more times than the current HH version. And it's been made at HH for about 20 years!. The current one is similar to the oldies at their best but seems more pronounced in rye character. The older ones seemed to have more subtlety and depth although the current has a certain appealing softness. It may be too that 30 years in the bottle altered the surviving Marylanders. If you kept the current Pikesville 30 years, it might end up like those.

I don't doubt a lot of old-time rye was like this whiskey although I find little of the fruity quality claimed on the HH website. There is some, but faintly so. But there is the grainy richness of what was surely one type of old-time rye. And the relationship to Hostalings, despite that the latter is aged in reused wood and is 100% rye, is quite evident. It's all a rye-hoedown. This whiskey is nice on its own (I used it to off-set the remains of a cold). It would make too, I could see, excellent cocktails. I can see it now: 50% Pikesville, 50% a high-test wheated bourbon, splash vermouth and bitters, and va-voom.

Last comment: this current bottling seems better than from 5 or 10 yaers ago, softer with an appealing "creamy" quality.
Registered users can make comments on this review...Already registered? Log in here
---


Log in to be able to add your own review of this bottling.

&nbsp