Bourbon Reviews: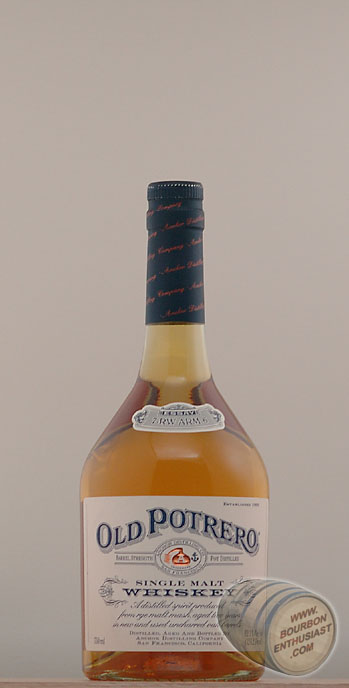 Bottling Name

Old Potrero Single Malt

Bottled By
Anchor Brewing Co. San Francisco,CA
Type

Whiskey

Alcohol content

124.2 Proof

Availability

US: Available Japan: Unknown Duty Free: Not Available Europe: Unknown

Views (since 20080612)

21186

Bottling Info
<From their site>

OLD POTRERO SINGLE MALT WHISKEY is our attempt to re-create the original whiskeys produced from grain in America. Distilled in a small copper pot still from a mash of 100% rye malt, it is aged for one year in new uncharred oak barrels at our small distillery on Potrero Hill in San Francisco. Already delightful, Old Potrero is certainly a young whiskey, and it seems likely that whiskey was often consumed as young as this in the early days of American distilling, when eager farmers savored the fruit of their labors.

Probably no one will ever know every detail about how the first whiskeys were made along the Atlantic Coast in the 18th century???written records are very scarce???but for many reasons it seems likely that they were made, like this one, from a mash consisting entirely of malted rye. Rye was the grain of choice for America's first distillers, and when you taste Old Potrero you will see that using a mash of 100% rye malt produces a whiskey with a wonderful character.
Review from Mike (BourbonEnthusiast Review ID 1678, Created:20090909191430, Updated:20090909191511) View discussion on this review.

| | |
| --- | --- |
| Purchased at: | |
| Nose: | Rye, green apples, leather, alcohol vapors, lemons, and an earthy aroma somewhat like that found in sipping tequila. |
| Taste: | Rye sweetness that I would describe as hard followed quickly by a zap of spicy, lemony bite. An intriqueing and compelling sip of a potent and concentrated spirit. |
| Finish: | Warm to hot, surprising how the rye sweetness still holds on. |
| Overall: | A challenging sip with strong and lasting flavors. Not for the novice drinker. However, had this been served at the Ladies Temperance League meetings the history of whiskey in the US might have been far less troublesome. Yes, I do like it and am glad I still have a middling amount with which to delightfully punish myself. It would be good to reserve a sip for when I am about to pass behind that dark curtain..........you know, to help me prepare my defense. |
Registered users can make comments on this review...Already registered? Log in here
---
Review from kystraightbourbon (BourbonEnthusiast Review ID 638, Created:20061110190441) View discussion on this review.

Purchased at:
Info on this bottle:

2x50 mL courtesy of Mike, Barreled on 6/3/97, bottled on 5/25/99

Proof Of this Bottle:

123.5

Nose:
I did this two ways, undiluted and diluted (~80 proof). I found the primary scents to be unchanged, but initially the full proof was too strong and overpowering. After about 20 minutes of breathe time, it improved.

When diluted, the nose was strong, but acceptable with a little bit of a prickling sensation and some numbing. I found it to be very reminiscent of Georgia Moon, but then again, completely different considering the grain. I was instantly reminded of the smell of a cider mill, fermenting apples, wet rotting wood, and mustiness (good memories and smells). I was also reminded of rye bread and caraway seeds. After a while I detected a faint hint of vanilla, brown sugar, and toasted almonds. In the undiluted sample, ethanol was quite evident in the beginning. Again, this faded with time.
Taste:
Diluted: The mouthfeel was almost effervescent, but with a buttery smoothness that was quite enjoyable. There was an initial sweetness that quickly was overpowered by a strong bitter dryness. This faded back to sweetness with a few more samplings. I found that interesting. The rye flavor is definitely present along with what I perceive to be ginger. Primarily, I am reminded of the musty flavor of Granny Smith apples.

Undiluted: Bring on the pepper and spice! It hits hard, but fades into a nice warmth in the chest. The flavor is much the same. Even more so, I am reminded of Granny Smith apples.
Finish:

For both samples, the finish was dry, and lasted quite a while. I was sitting there going..mmmmm...beeeerrrrr. To compliment that beer flavor, I also got impressions of peppermint and the mustiness of Granny Smith apples. Throughout this whole sampling, I couldn't get the apple theme out of my head.

Overall:

Very unique and complex. I was put off at first, but I gave it a chance and it won me over. This one is truly a gem. It makes me wonder what affect longer aging would have, as well as what a charred barrel might impart to this whiskey. Even at this age it is fantastic.
Registered users can make comments on this review...Already registered? Log in here
---
Review from Mike (BourbonEnthusiast Review ID 601, Created:20061011171116)
| | |
| --- | --- |
| Purchased at: | |
| Nose: | Dried fruit, mostly apricots, but a nice dose of citrus too. Naturally, rye comes on to 'warm' the nose. Surprisingly subdued in these aromas is the alcohol..........stick your nose way in the glass and the 124 proof remains shy. For me, it is an interesting nose that is quite exotic! I do like it! |
| Taste: | Not like any other whiskey that I know of. It is very spicy and has a decided alcohol presence that still seems less than 124 proof. The rye plays a definite first fiddle here, but is moderated by a mint flavor that wipes the palate clean. Complex? No...........yet an assertiveness and self assurance that leads me to say momma mia, this is good! |
| Finish: | A highly hopped beer remains in your mouth a long time. A bitterness that many, if not most, will find offensive............personally, I like highly hopped beers. I find a parallel in this whiskey. The rye spice remains in the mouth, not with a bitterness like hops, but with a spicy zest that challenges and jolts you awake and brings you to full alertness! The alcohol, ah, the alcohol....... at 124 proof it is going to have its say at some point. It is in the gullet that it begins its wail, a wrenching cry that mercifully only last a short while and is gone........ |
| Overall: | If you like strong flavors that come at you like a house afire, try this whiskey! My opinion is that this is an unusual and very wothwhile gustatory adventure. I am glad it is out there for those of us who like to mess around with unusual and provocative tastes. |
Registered users can make comments on this review...Already registered? Log in here
---
Review from gillmang (BourbonEnthusiast Review ID 550, Created:20060725132927, Updated:20060726060255)
| | |
| --- | --- |
| Purchased at: | Bottle Barn, Santa Rosa, CA |
| Purchased for: | $53.00 |
| Info on this bottle: | This is the special, 11 years old Hotalings version released earlier this year |
| Proof Of this Bottle: | 100 |
| Nose: | Juniper or gin-like |
| Taste: | More gin-like flavor with a depth of sweet oak and mild minty (not teaberry though) flavours. The petrol-like congeners of the young whiskey are aged out. It is like, say, Limited Edition of Crown Royal if you, i) abstracted out the high-proof distillate element, ii) added a dash of Beefeater Gin, iii) bottled it at 100 proof. There is sweet oak but no red layer taste, nothing in this whiskey shows any new charred wood aging. It reminds me of some genevers, e.g. Filliers 8 year old (which is actually Belgian-made). |
| Finish: | Similar to the taste. |
| Overall: | I can't figure out where the gin-like taste comes from. Presumably it is a result of the way this particular whiskey (a 100% malted rye distillate) matured. I don't dislike it but I can't "place" the ginny effect. Since Anchor also makes a gin, I thought maybe some was added to the whiskey for additional flavor. (Low proof genever gin made from rye in Holland was and some still is distilled with juniper berries and so the concept isn't as strange as might seem the case). But I don't think this explains it. One can see that a decent amount of aging really does convert the feisty taste of young Potrero whiskey into something different but I found the juniper-like overlay distracting. Although not I think what Anchor intended this whiskey probably resembles a high grade Dutch genever gin of the 1800's (technically called "maltwine" - some is still made for blending with high proof spirit. See Byrn's 1860's distilling text for a description of how this genever was made). Juniper was added originally to gin to mask off-tastes in young distillate. But I do not detect any juniper in the regular issue of Potrero Single Malt whisky...). |
Registered users can make comments on this review...Already registered? Log in here
---
Review from bourbonv (BourbonEnthusiast Review ID 293, Created:20051006154558)
| | |
| --- | --- |
| Purchased at: | Gift from Michael Hack |
| Info on this bottle: | 18th Century Style Spirit 100% rye malt mash in uncharred oak barrels |
| Proof Of this Bottle: | 125.1 |
| Nose: | Slightly grassy with a lot of "new whiskey" tones with a slight molasses aroma. Some spice - pepper and dark fruits like dates or cherries. |
| Taste: | Hot and spicy to start with lots of alcohol heat and pepper spice but the sweet molasses flavor comes through at the end. |
| Finish: | The finish is actually very nice with a sweet and spicy flavor that reminds me of a molasses cookie. It last a moderately long time. |
| Overall: | The bottle says it for the California market only. It is not a bad product but I wonder if a few more years of age might make it better. I think a lower proof - about 100 would help as well. Add some water and enjoy. |
Registered users can make comments on this review...Already registered? Log in here
---
Review from Mike (BourbonEnthusiast Review ID 120)
| | |
| --- | --- |
| Purchased at: | Sigman Bottle Shop, Conyers, GA |
| Purchased for: | $69 |
| Info on this bottle: | Barrel strength - 100% rye malt |
| Proof Of this Bottle: | 123.5 |
| Nose: | Rye sweetness, spicies, lemon, slight petroleum smell (fusel oils?) |
| Taste: | The sweetness, the bite of the rye, the sharpness of the alcohol, the lemony citrus, and the spices contend with each other for supremacy. None wins out completely. The fight occuring in the mouth is an entertaining slugfest as first one flavor, then another, lands a punch, with the drinker being the real winner in the end. |
| Finish: | Long finish with flavor aplenty. The taste is pretty consistent start to finish, with the alcohol burn being the last slugger standing before it tumbles, still punching, down the gullet. |
| Overall: | My inclination is to think of this whiskey as a rye liqueur.........but that would do it an injustice. Much as I like liqueurs, they are usually too sweet and cloying to allow more than a small tipple. Still, this is a whiskey that has a unique flavor profile in my experience.......I can't put it in a neat category. I would never have believed a one year old whiskey could be of this quality. If this is close to the whiskey our ancesters were drinking, they certainly were not drinking rotgut! |
Registered users can make comments on this review...Already registered? Log in here
---


Log in to be able to add your own review of this bottling.

&nbsp
Who is online
Registered users:

Bing [Bot]

,

Google [Bot]

,

Majestic-12 [Bot]