Bourbon Reviews: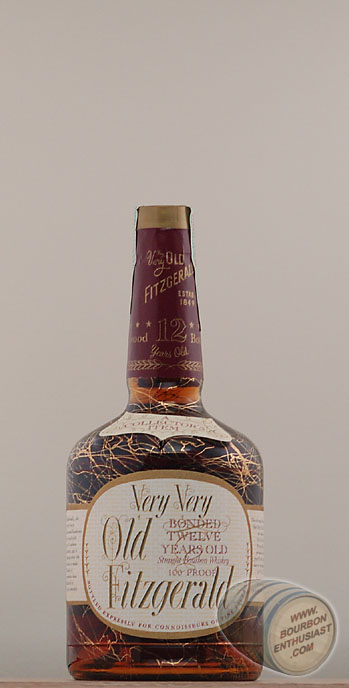 | | |
| --- | --- |
| Bottling Name | Old Fitzgerald, Very Very |
| Bottled By | Stitzel Weller Shively,Ky |
| Type | Kentucky Straight Bourbon Whiskey |
| Alcohol content | 100 Proof |
| Availability | US: No Longer Available Japan: Not Available Duty Free: Not Available Europe: Not Available |
| Age | 12 |
| Views (since 20080612) | 8583 |
| Bottling Info | . |
| Events for this bottling: | |
Review from spun_cookie (BourbonEnthusiast Review ID 1079, Created:20080510190728)
Purchased at:

City bourbon and wedding

Purchased for:

a bunch

Info on this bottle:

My best guess is this is Distilled in 49 and bottled in 61 (or near that based on the data at teh botom of the bottle)

Proof Of this Bottle:

100

Nose:
First sent out of the bottle:
Alcohol, oak, light, light leather, I can smell the age on this. It has been sitting in that bottle a long time.

Poured into a Reidel bourbon glass
Very amber in color.

As it opens over 60 seconds some vanilla begins to come um. And a very, very, very light citrus smell.

After about 2-3 minutes, a maple smell and sweeter sensation begins to show up to the dance.

This is getting much nicer as it opens. I was getting worried there for a few minutes.

Vanilla is really there at five plus minutes. I can see why this is so popular.


Taste:
Alcohol and leather, but not heavy. Just nice. There is some oak, but not overwhelming Very similar to older bourbons I have had.

After about 3 min, it is sweeter and the taste is fuller. There is still a very light citrus, but the vanilla and the sweet dominates.. alcohol burn is perfect.


Finish:
Overall:
Registered users can make comments on this review...Already registered? Log in here
---
Review from Mark (BourbonEnthusiast Review ID 29)
| | |
| --- | --- |
| Purchased at: | eBay |
| Purchased for: | Priceless |
| Info on this bottle: | |
| Nose: | Lots of alcohol aroma when first poured but after some time in the glass, it opens up very nicely. The best way to describe it is like standing in the middle of a rickhouse. There are also notes of leather present. |
| Taste: | There are definitely some anise notes present. As with the nose, it is initially spicy. But over time it becomes more rounded and caramel comes through. |
| Finish: | The finish is not all too long but it is still very nice. It is smooth with a creamy finish that makes you want to go back for another sip to experience it all over again. |
| Overall: | Unlike some of the younger wheaters we are all familiar with, caramel does not dominate this bourbon. It is very well balanced and nicely refined; Truly unique from anything else found on the market nowadays. Thumbs up! |
Registered users can make comments on this review...Already registered? Log in here
---


Log in to be able to add your own review of this bottling.

&nbsp