Bourbon Reviews: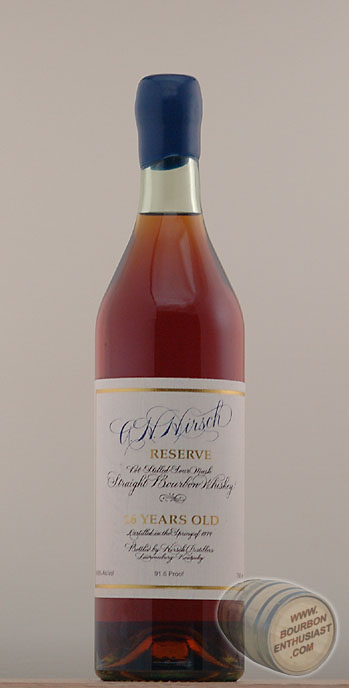 Bottling Name

A. H. Hirsch Reserve

Bottled By
Old Rip VanWinkle / Julian VanWinkle Lawerenceburg,KY
Type

Straight Bourbon Whiskey

Alcohol content

91.6 Proof

Availability

US: No Longer Available Japan: Unknown Duty Free: Not Available Europe: Unknown

Mashbill Info

Distilled Spring 1974

Age

16

Views (since 20080612)

14807

Bottling Info
Straight Bourbon Whisky
Distilled by the now defunct Michter's distillery in PA, this bourbon is in my top 10 (along with its older aged 20 year version). There have been 3 bottlings of the 16 year old with the final bottling being the last stock left to be bottled of this fine whiskey. So before it is gone, be sure to grab yourself a bottle and enjoy.
Review from jfenwick (BourbonEnthusiast Review ID 1547, Created:20090426203800)
Purchased at:

Rendsburg, Germany

Purchased for:

USD87

Info on this bottle:

Black Wax Export

Nose:
Neat - Leather/Vanilla/Orange with a little pepper

A few drops of water - Caramel JUMPS to the front.

Half Water - could breathe it all day, but even better at about 10% water
Taste:
Neat - Caramel, the white of an orange peel

A few drops of water - drier?

Half Water - More vanilla, soft, new leather. For me, , probably a bit too much water. I like this best at about a splash, more than a few drops, less than 20%
Finish:
Neat - stays with you a few minutes, past a couple of sips of water. dry, but smooth

A few drops of water - I notice the tannin a bit more.

Half Water - This still does not shorten the finish
Overall:
This black was is every bit as good as I remember the blue wax, but it has been a few years. A top bourbon, but beaten, at least for me, by some of the top singles of the last decade.

I include the 'half water' notes for those like my son and his friends who like to take the edge off the entry.
Registered users can make comments on this review...Already registered? Log in here
---
Review from gillmang (BourbonEnthusiast Review ID 1416, Created:20090110153859, Updated:20090110154558)
| | |
| --- | --- |
| Purchased at: | New York some years ago |
| Purchased for: | Can't remember |
| Info on this bottle: | This is the 20 year old, A.H. Hirsch Bourbon 20 years old distilled at Michter's in PA in 1974 |
| Nose: | Pleasant, rounded but non-descript |
| Taste: | Sweetish and caramel-like, dryish yet not too woody, notes of medicine and slight spearmint very well integrated. |
| Finish: | Drying, lingering, light decay of charcoal and cherry-like flavour |
| Overall: | Top of the line. I never keep anything very long, but I've had three bottles of the 20 for a while and decided to open two recently. The first one I opened wasn't quite as good as the second, subject of this comment. Tim's review of the 1st generation 16 applies quite well to my 20. I've had the 16 1st generation only a couple of times and recall it being a little livelier than the 20, but they are close in palate. The 20 is like a beautiful older actress still at the top of her game, the 16 is the same person 5 years younger with just a little less poise. |
Registered users can make comments on this review...Already registered? Log in here
---
Review from TNbourbon (BourbonEnthusiast Review ID 624, Created:20061101212030, Updated:20061102123805)
Purchased at:

trade with MikeK

Purchased for:

some S-W single-barrel and Joseph Finch samples

Info on this bottle:

No back label, as appears on later issues

Nose:

Ever stick your face in a fairly-new-but-broken-in baseball glove? (If not, you've missed one of life's great pleasures, but I guess not everyone can be a country boy.) Tinge of orange peel around the edges.

Taste:

Soft entry, but immediately drying. Leather and non-candied orange peel -- man, this palate justifies its nose about as well as any whiskey I've ever found! Also some buttery caramel. No question this bourbon is dry and acidic, but oddly not terribly tannic, and so it never 'sours' as it flows across the tongue. The caramel comes forward after a bit.

Finish:

Medium length, with soothing warmth. Again, dry -- but without the tarting tannins.

Overall:
A couple of anecdotes:
I shared from this bottle with some fellow tasters, including Julian Van Winkle, head-to-head against a gold-foil bottle at the Gazebo in Bardstown during the bourbon festival in Sept., and all agreed that this blue-wax version was deeper, richer, and superior to the gold-foil (third) version. Unfortunately, we didn't have a gold-wax (second version) bottle there. First beat third, however, in a clear and obvious manner.
Also, I offered Binny's Brett Pontoni a 1:1 vatting of this and some late-'70s Michter's I also had along with me (see my note in review of gold-wax version) -- he was impressed enough to hustle it out to Malt Advocate's editor, John Hansell, whose head shot around to find Brett upon tasting it, after which he demanded, "What did you just hand me?" Hansell and I discussed it for a couple of minutes, during which we agreed that it's sad that Michter's whiskey too soon will be myth and history.

Registered users can make comments on this review...Already registered? Log in here
---


Log in to be able to add your own review of this bottling.

&nbsp