Bourbon Reviews: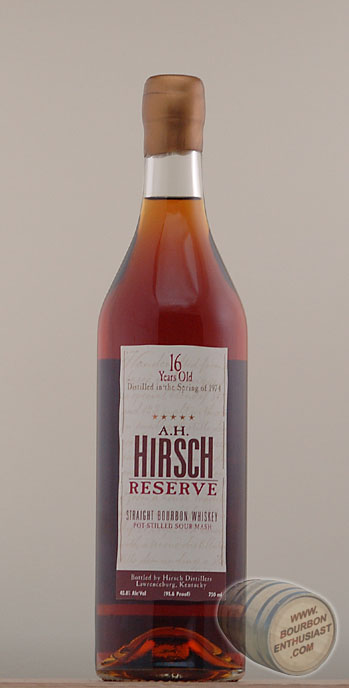 | | |
| --- | --- |
| Bottling Name | A. H. Hirsch Reserve (Gold Wax) |
| Bottled By | Old Rip VanWinkle / Julian VanWinkle Lawerenceburg,KY |
| Type | Straight Bourbon Whiskey |
| Alcohol content | 91.6 Proof |
| Availability | US: No Longer Available Japan: Unknown Duty Free: Not Available Europe: Unknown |
| Mashbill Info | Distilled Spring 1974 |
| Age | 16 |
| Views (since 20080612) | 9575 |
| Bottling Info | Distilled by the now defunct Michter's distillery in PA, this bourbon is in my top 10 (along with its older aged 20 year version). There have been 3 bottlings of the 16 year old with the final bottling being the last stock left to be bottled of this fine whiskey. So before it is gone, be sure to grab yourself a bottle and enjoy. |
Review from gillmang (BourbonEnthusiast Review ID 1336, Created:20081031232204, Updated:20081031232314)
| | |
| --- | --- |
| Purchased at: | Barcelona, Spain last year |
| Purchased for: | Not that much, $60-$70 as I recall |
| Info on this bottle: | Gold wax, just like the one Tim reviews below |
| Nose: | Toffee, maple, alcohol, some wood, some complex fruit or esters |
| Taste: | Sweet with well-matured rye tangs, the oak evident but fully in tune with the style of this well-aged bourbon. Some cool climate forest notes which denote the Michter's style. As Tim said, you can see the connection between this oldster and Michter's Original Sour Mash (which was 6 years old). It gets better with aeration, more complex and refined. |
| Finish: | Very pleasant and integrated, as I get older I'm finding it harder to describe bourbon flavors well but this is tops |
| Overall: | I love it, a classic that has its own mythology (the different generations, the unlikely history). Pure American whisky quality. |
Registered users can make comments on this review...Already registered? Log in here
---
Review from TNbourbon (BourbonEnthusiast Review ID 209, Created:20050712204313)
| | |
| --- | --- |
| Purchased at: | Middle Tennessee (still spotty availability in Spring 2005) |
| Purchased for: | $65-$80 |
| Info on this bottle: | Gold-wax seal; upright typeface; Michter's (PA) story on reverse label |
| Proof Of this Bottle: | 91.6 |
| Nose: | Mosty vanilla, underpinned by some oak (unsurprising after 16 years in barrel). Tight early -- needs time to breathe. With some time and aeration, some orange-y citrus appears. Soft apple, too. |
| Taste: | Little astringency here. Soft maple/caramel suffuses, with buttery vanilla (or vanilla butter) dripping down the sides. Makes you think a little of breakfast pancakes in the Smoky Mountains. |
| Finish: | The heat arrives slowly, with subtlety that spreads from mid-palate to the throat, then hovers on the edge before taking the plunge. Medium to medium-long in length. |
| Overall: | I have had the pleasure of owning/sampling several young (4yo?) original Michter's whiskeys. This is a definite relative, but the whiskey is covered over a great deal by the 16 years in oak. One of the great, pleasant surprises of my bourbon experiences was when I serendipitously (try spelling THAT after a couple of drinks!) vatted equal parts young Michter's and 16yo "Hirsch" Michter's. The result was one of the finest drinks I've ever enjoyed, and several others who sampled it with me -- including some members of this forum -- agreed. The light rye-spice, apple-fruitiness of the combined Michter'ses supersedes the Hirsch oakiness, while the oak provides just the touch of complementary age, to create whiskey nirvana. What the heck -- I have a PA Michter's open, too -- I've talked myself into it. |
Registered users can make comments on this review...Already registered? Log in here
---


Log in to be able to add your own review of this bottling.

&nbsp