Bourbon Reviews: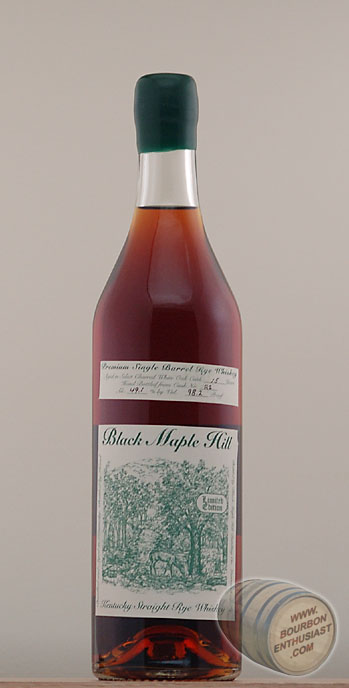 | | |
| --- | --- |
| Bottling Name | Black Maple Hill Rye |
| Bottled By | Kentucky Bourbon Distillers, Ltd. Bardstown,KY |
| Type | Kentucky Straight Rye Whiskey |
| Alcohol content | 98.2 Proof |
| Availability | US: No Longer Available Japan: Not Available Duty Free: Not Available Europe: Not Available |
| Age | 15 |
| Views (since 20080612) | 8320 |
| Bottling Info | A new BMH Rye is now available but it is different whiskey from a different distiller. |
Review from MikeK (BourbonEnthusiast Review ID 347, Created:20060214174728, Updated:20060214174842)
Purchased at:

AJ's Supermarket, Scottsdale AZ

Purchased for:

56.99

Info on this bottle:

Cask #R2

Proof Of this Bottle:

98.2

Nose:

Juicy black cherry, caramel apple, coffee cake, cinnamon, vanilla, sugared fruit, floral tones. Would make a great cologne.

Taste:

Rich flavor and mouth feel. Dark fruit, toffee, chocolate covered cherries, oak, banana.

Finish:

Medium to long finish with a slight burn at the back of the mouth. Sweet and fruity backed by oak. Chocolate and cabernet.

Overall:
This is as good as it gets. The nose is fruity, floral, and complex. The flavor backs up the nose and keeps on going. Even this finish is rich and evolving. The strong black cherry tones in the nose and taste remind me a lot of A.H. Hirsch 16yo bourbon. Also interesting is the taste of cabernet sauvignon in the finish.

Older Black Maple Hill products can be pricey. I often see them priced in the $75 range or more. I am a cheap bastard and hate to pay this much for bourbon, especially since I can buy top of the line bourbons for $30-$45 all day long. I highly recommend this rye, and if you can find it for closer to $50, jump on it.

Registered users can make comments on this review...Already registered? Log in here
---


Log in to be able to add your own review of this bottling.

&nbsp