Bourbon Reviews: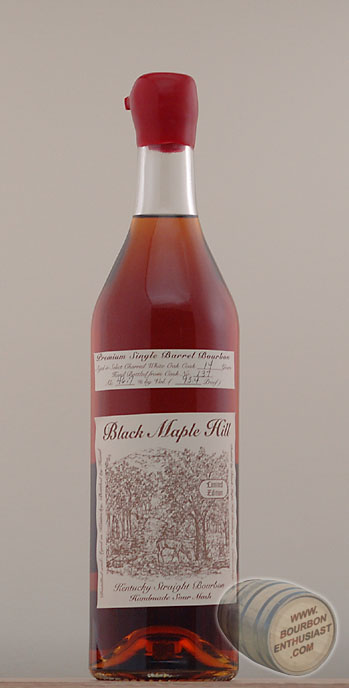 Bottling Name

Black Maple Hill 14 year old

Bottled By
Kentucky Bourbon Distillers, Ltd. Bardstown,KY
Type

Kentucky Straight Bourbon Whiskey

Alcohol content

95.4 Proof

Availability

US: No Longer Available Japan: Not Available Duty Free: Not Available Europe: Not Available

Age

14

Views (since 20080612)

39095

Bottling Info
A new 14yo is now available but it is different whiskey from a different distiller.

"...full fledged Bourbon bouquet that's ribboned with sweet corn, charred oak, grainy spice, and wood resin...the midpalate is corny sweet, carmel-like and biscuity; the aftertaste is long, a bit citrusy tar, woody, and elightful; a luscious example of Bourbon's drier, bittersweet side; A DEFINITE KEEPER!" Spirits Journal Rating 4 Stars
Review from Mike (BourbonEnthusiast Review ID 254, Created:20050822112119, Updated:20050822140956)
| | |
| --- | --- |
| Purchased at: | Sigman Bottle Shop, Conyers, GA |
| Purchased for: | $47 |
| Info on this bottle: | Actually this is the 11 YO from cask 304 |
| Proof Of this Bottle: | 95 |
| Nose: | The nose on this bourbon is very subtle and somewhat different. It smells of hay and clover, with a distinctly earthy, organic aroma. Lurking within are a smidge of orange and mild spices. No sweetness, oak, or char is apparent to this drinker. |
| Taste: | A very mild bourbon, very smooth, but nearly too soft, and silky. Some sweetness upfront but an overall dryness that is not astringent. Alcolhol presence is there but not boisterous or loud. This is not a complex bourbon. |
| Finish: | The finish is like the nose and the taste. While it has some viscosity, it is not long and it goes out lightly. |
| Overall: | A pleasant bourbon, but nothing about it is very memorable. Quite frankly, I am disappointed since I like its 21 YO brother very much. Based upon this particular barrel, it is definitely not worth what I paid, and not, in this reveiwer's opinion, anything more that a pale shadow of its brother. Not since tasting Basil Hayden have I experienced such a characterless bourbon. |
Registered users can make comments on this review...Already registered? Log in here
---


Log in to be able to add your own review of this bottling.

&nbsp